LOG38 Registration is officially open!
We're thrilled to announce that LOG38 registration is now open and available on Lotus, Ltd.'s website. You'll need to be an active member with access to our website's membership section to sign up on the website. Alternatively, you can always sign up through the paper form found in your recent ReMarque. See below for instructions on how to sign up for LOG38 in Cleveland, Ohio.
Instructions on how to sign up for LOG38
Step 1: Join Lotus, Ltd. or sign into your account.
Yes - we do have a brand-new membership portal on our website! If you are a new member (welcome!), sign up today for Lotus, Ltd. If you are an existing member (hello again!), you can use these instructions to gain access to your new account: instructions.
Step 2: Sign up for LOG38
Once you are a member of Lotus, Ltd. and have your login credentials, navigate to our LOG38 landing page. From here, you'll be able to view information on the upcoming event, including scheduling, apparel, and Performance Driver Education Day information. You'll also be able to navigate directly to our LOG38 registration page.
Step 3: Complete the LOG38 registration form
The LOG38 registration form allows for our members to purchase admission to LOG38 directly through the website via a credit card. If you are unable to make it to LOG38 and still want the great apparel that's been created - don't worry! You can use the same form to just order apparel from LOG38.
Within the form, you'll be able to sign up yourself and all of your family members. Don't forget to look for our new information fields, such as your LotusTalk username. This has been a long-requested addition to the LOG registration form, and we're thrilled to be including it this year for our members.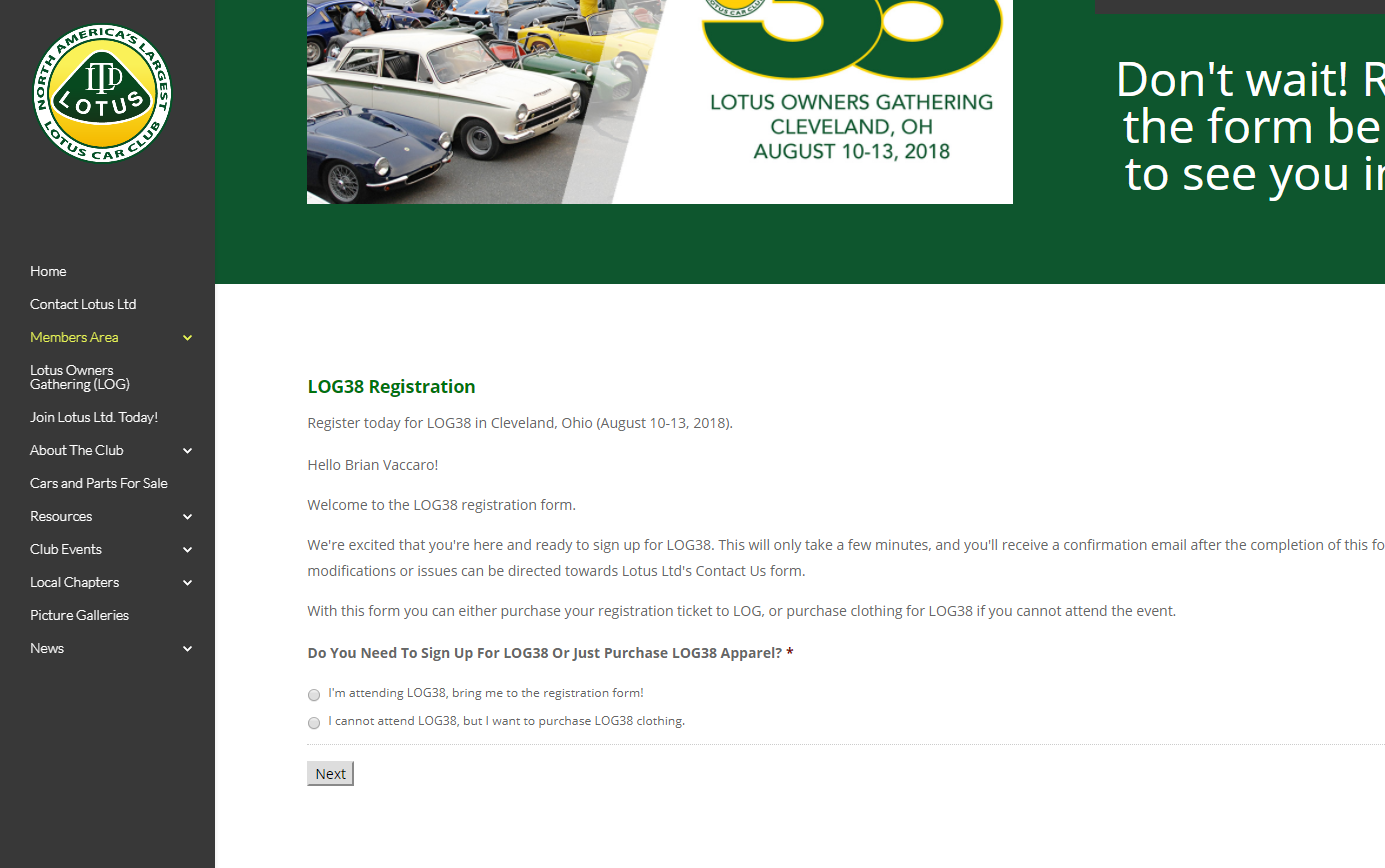 Step 4: Drive to Cleveland, Ohio!
We suggest waiting until the week of August 10th, 2018 to start your trip (unless you're coming from very far away or making an extended vacation around our event)!
After completing the online form, your LOG38 registration information will be emailed to you from "info@lotusltd.com", so watch out in your inbox for that sender's address.
If you encounter any issues, do not hestiate to contact us.
We can't wait to see you in August!