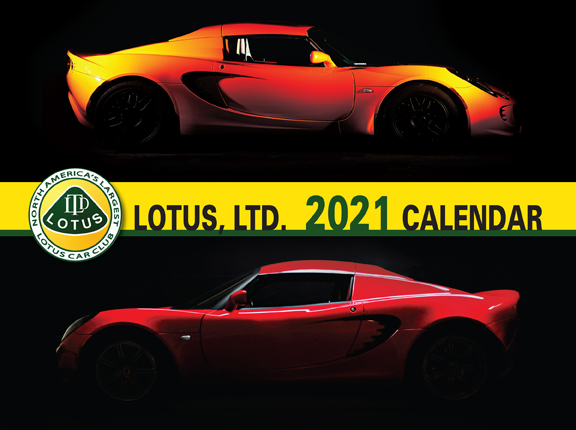 Announcing the Lotus Ltd. 2021 Wall Calendar!
Are you looking for that perfect holiday gift for your Lotus girl or guy? Do you have an empty space on the wall in your office or garage? If you do, look no further, do we have a deal for you!
Our Lotus Ltd. calendar showcases many of your fellow members' cars. The photos were picked from hundred or so of photos submitted to Lotus Ltd. The calendar covers the months of November 2020 to January 2022 and features 17 stunning images of club member's cars. The last page features photos of all the cars that came close, but unfortunately did not make the main pages.
This is a calendar to be used. Each page opens up to 12 X 18 inches with ample room for you to add events that are happening in your area.
Cost is only $15 per calendar, plus $3.50 shipping in the USA, in the UK and Europe 12.50 pounds plus 12.90 pounds shipping.
To order please go to the Coterie Press website, Coterie Webpage to Order Lotus Ltd. Calendar.
Orders can also be made direct and in person using a credit-card through the Coterie Press office on +1 303-933-2526
100% of all proceeds (minus shipping cost) from the sale of this calendar go directly to benefit Lotus Ltd.!
Please note, if you want to order more than one copy in the USA, the price for shipping will be the actual shipping. This will not be shown in the total when you place an order online, but any difference will be refunded to you when your order is shipped.
Orders can be made direct and in person using a credit-card through our office on +1 303-933-2526
Don't hesitate! Quantities are limited!!!
Countdown to LOG41 In Canaan Valley, WV: September 9-11
Want More Information About LOG41?