Hey! Who are you calling 'scruffy'?
The backstory:
A little more than 40 years ago a committee was looking for a location to host the next World's Fair. Selection by the committee was a gigantic honor and all of the glamorous cities around the globe were in contention; New York, Paris, Chicago and Los Angeles just to name a few. Knoxville, Tennessee, one overly ambitious (one might say) city vied for the opportunity as well. A jewel of the south, Knoxville had, and continues to have, some of the most breathtaking sites, activities, history and entertainment that can be found anywhere. Some, not so informed groups, did not feel that way.
A journalist for the Wall Street Journal, whose name is now lost to history, thought Knoxville was 'punching above its weight'. This columnist scoffed at how a "scruffy little city" like Knoxville could be seriously considered to host such a world class event. How would you react to this type of attack? One could get angry and lash out with a nasty retort. Others might feel embarrassed and quietly walk away. But then again there is another path. Maybe, just maybe, you could OWN being 'scruffy'. Redefine it and be proud of it. And that is what Knoxville did.
As the selected city, Knoxville hosted the Word's Fair in 1982. Over the course of only 6 months, 11 million attendees gathered from around the globe to experience what Knoxville and the surrounding area had to offer. Although it might be scruffy, 11 million attendees is not too shabby.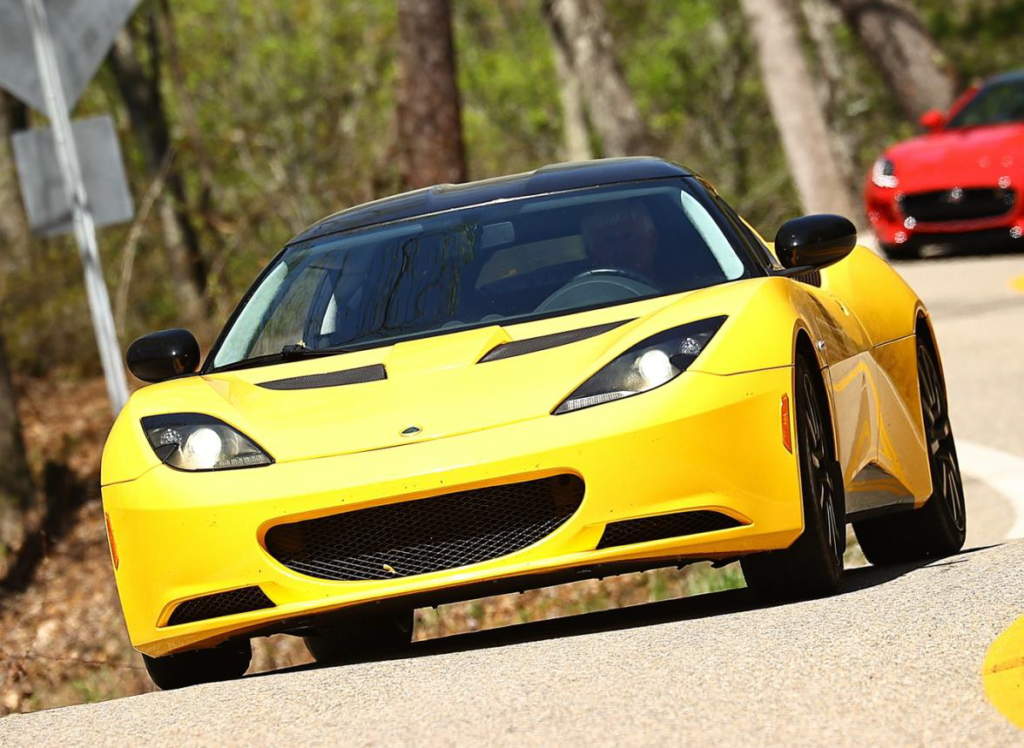 First, for the driving enthusiast . . .
Located in East Tennessee, Knoxville has the prettiest countryside anywhere to be found in The United States. From the cityscapes of Downtown to the splendid views of the Great Smoky Mountains National Park, there is more than enough beauty to satisfy your eyes.
Locals will tell you that you will have a hard time finding a straight road in East Tennessee. This is true. The Smokies and their foothills make sure of that. Easy pace drives can be had just minutes from the LOG 42 hotel with more spirited routes close by.
And when we say "spirited" – Have you ever heard of The Tail of the Dragon? Just 45 minutes from the hotel will start an exhilarating journey to Deals Gap, North Carolina. Over the 11 miles of "The Dragon" you will slalom your way through no less that 318 turns. Both hands of the wheel and no passing if you please. Along the way photographers are positioned to get actions shots of you and your Lotus. You can view and purchase them on line at your leisure. When you get to Deals Gap you can enjoy a sandwich and beverage while you get a sticker to prove that you slew The Dragon.
For some more appetizing fare continue on past Deals Gap for 3.8 miles to the Tapaco Tavern. Take in the glorious view of the Cheoah River while you dine outside. Keep your eyes open on this short drive for the Cheoah River Dam. What's that? You have never heard of the Cheoah Dam?? Well, for you movie buffs, do you remember the 1993 movie The Fugitive? This is the dam that Harrison Ford leapt from to escape Tommy Lee Jones. Spoiler alert!!! Harrison made it out alive.
After dining you can hop in your Lotus for anther 318 turns to bring you back to the hotel.
Note: The Dragon gets busy, especially with thrill seeking motorcyclists, on the weekends. You may wish to extend your stay, before or after the LOG, to experience the Dragon with less traffic.
So if History your thing . . .
Fort Loudoun (35 minutes from the hotel) is one of the earliest (circa 1756) British fortifications built in what was then called the "western frontier". This free to the public, with donations gratefully accepted, State Historic Park has a recreation of the Pre-Revolutionary War fort with additional ruins of early structures.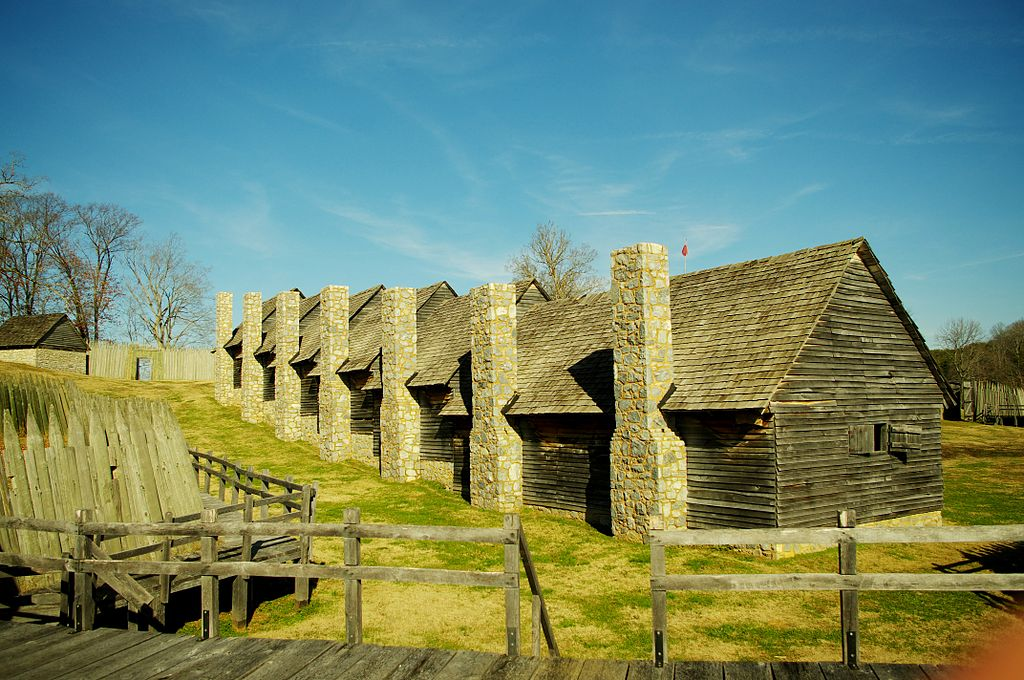 For some insight into the local culture, a must see is The Museum of Appalachia. This unique attraction celebrates the people and culture of Appalachia. Authentic structures have been preserved to house the museums enormous collection of artifacts. Everything that was needed to live this East Tennessee life (farming, cooking, trapping, metal and woodworking) can be discovered in one of the three main buildings.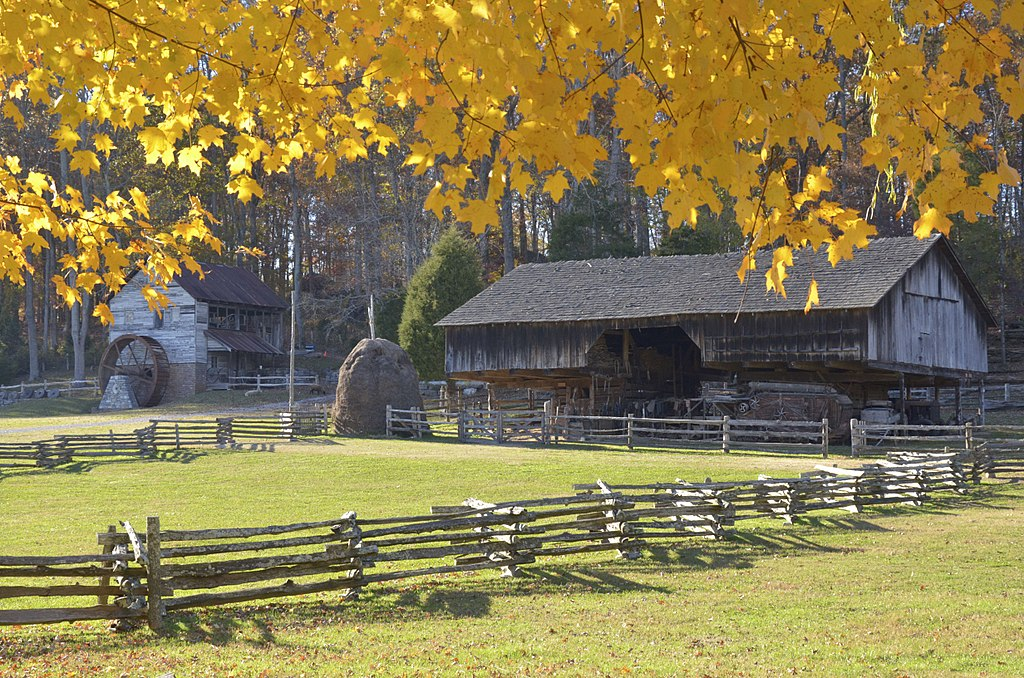 Factoid #1: One of the buildings on site is the relocated Samuel Clemens (pen name: Mark Twain) Family House. This was the home of Clemens' parents owned prior the family moved to Missouri.
History, along with some treats and treasures, can be found Downtown. One of Knoxville's longest running institutions, The Farmer's Market, is conducted in Market Square. Dating from just before the Civil War, Market Square has been the location for local farmers, craftsmen and artisans to peddle their wares. Take time to explore the shops that are uniquely Knoxville. Make some time to dine on Chicken and Waffles or maybe take in an afternoon ice cream. The square also hosts the open-air Farmers Market on Wednesdays (10AM – 1PM) and Saturdays (9AM – 1PM). Score some local honey, baked goods, in season fruits and vegetables, and even some stylish handmade clothing.
Nightlife
Evenings glow with activity in The Square. Check for free evening outdoor concerts. Bring a chair or just stroll around taking in the tunes. Rooftop dining is also a great way to finish your day. Many establishments, some with live entertainment, are ready for your order. Be sure to ask for a signature handmade cocktail or a local craft micro-brew. You will be glad that you did.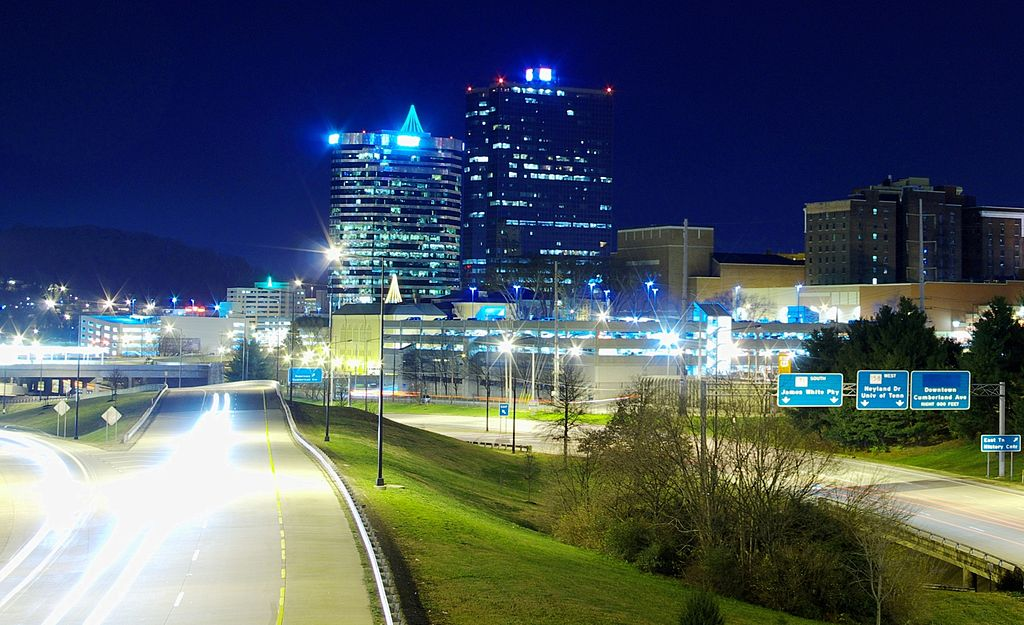 Daytime Downtown walking tour – Gay Street and more
One block over from Market Square is historic Gay Street. This is truly the heart of Downtown. Packed with shops to pique your curiosity and restaurants to satisfy your hunger, Gay Street has lots to offer.
Be sure to spend some time at Mast General Store. This throwback shop on two levels has locally sourced crafts (handmade walking sticks, jellies, jams and preserves – Note: Try the Frog Jam. It's awesome!!), pre-Xbox toys, and a huge selection of old-time candy.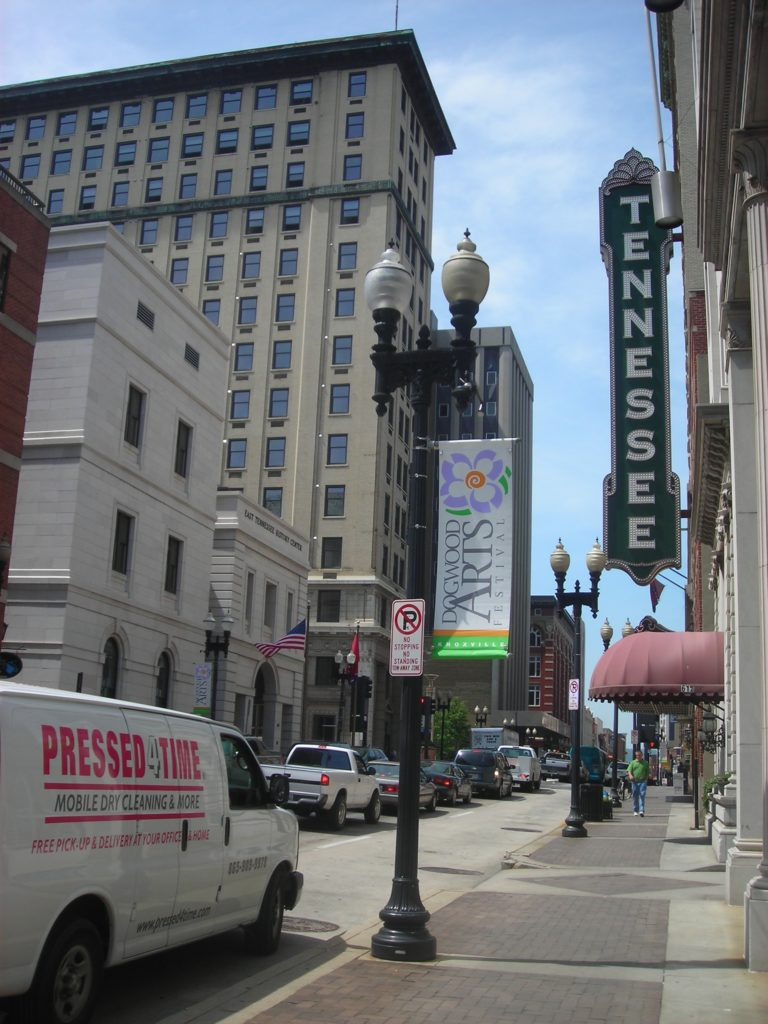 Stroll up and down Gay Street. Take some selfies in front of the legendary Tennessee Theater. The list of legendary acts to perform at the Tennessee Theater is endless. Tom Mix Cowboy Rodeo in the 1930's, big band leader Glenn Miller in 1940, and The Everly Brothers have all performed on that storied stage. Factoid #2: Phil and Don Everly both attend high school in Knoxville. Although they were only briefly in Knoxville, that are considered local boys who "done good".
After walking, snacking and window-shopping Gay Street, continue your easy pace journey to The Old City. Dripping with a "hipster vibe" The Old City has shops that are dedicated to "Keep Knoxville Scruffy". Choose one of the craft breweries or coffee shops to relax and cool off.
Driving tours . . .
Apart from the Tail of the Dragon, there are many other scenic drives to explore and enjoy. There will be detailed driving tour information shared in later articles and at LOG 42. For now, here is just a taste.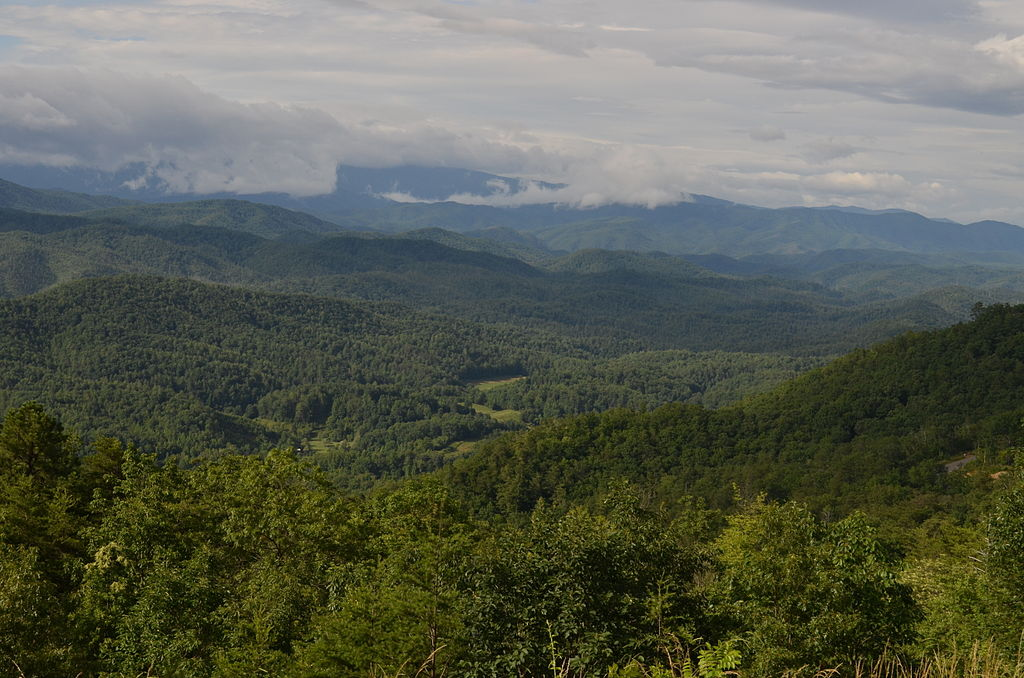 Cruise to Top of The World via the Foothills Parkway. The massive views of the Great Smoky Mountains can't be missed. Pack a lunch and take your time.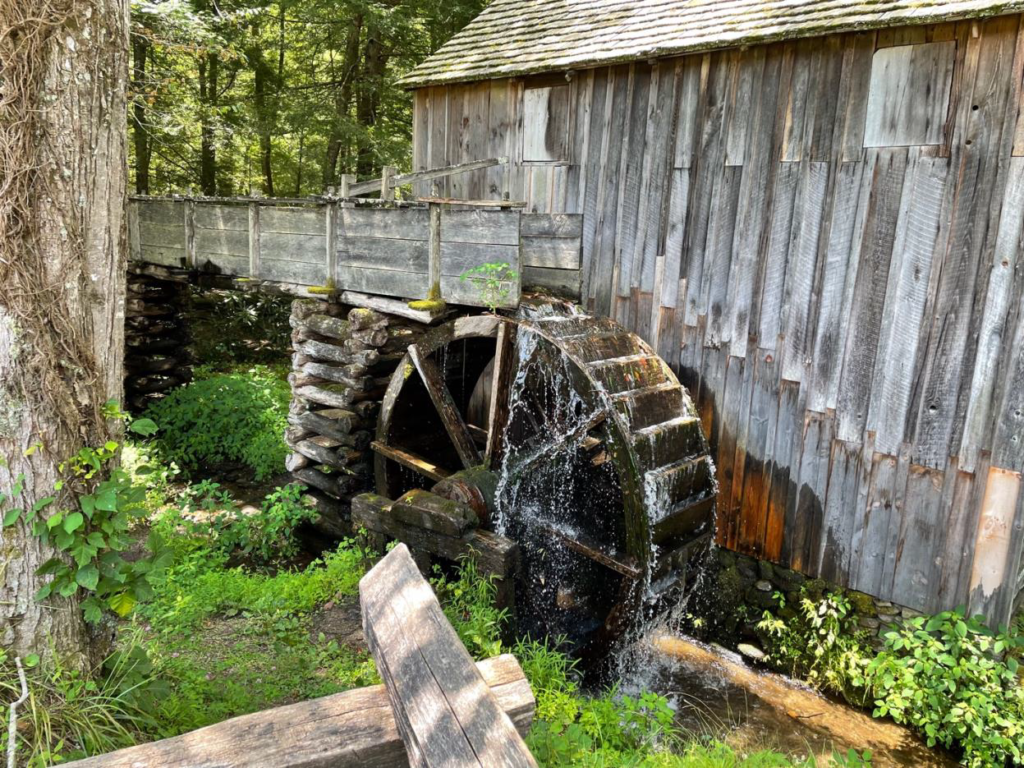 Only 1 hour from the hotel you can take a leisurely tour of Cades Cove in The Great Smoky Mountain National Park. Cades Cove, an 11-mile one-way loop, rests within a valley in the park. Dozens of bird species, white-tailed deer and black bears (Yes. He said BEARS!) all call the cove home. As you make your way through the paved road you will come across many historical buildings. A number of these structures are original to the cove. Churches, homes, barns, gristmills and blacksmith shops provide an authentic perspective of frontier life in Eastern Tennessee.
Take the opportunity to talk to the Park Rangers. They have a wealth of information on the people who called Cades Cove home. Listen to the rich stories of how this privately held land transitioned into a National Park during the Depression Era.
A note about Cades Cove – The cove is truly a treasure and is heavily traveled from Fridays to Mondays. If you wish to avoid the crowds you should consider leaving the extended weekend visits to others. Also be aware that the Cades Cove closed the loop to automobiles and motorcycles on Wednesdays. This day is reserved for bicycle traffic only. If you wish to bike the cove it recommended that you remember the earlier comment on BLACK BEARS.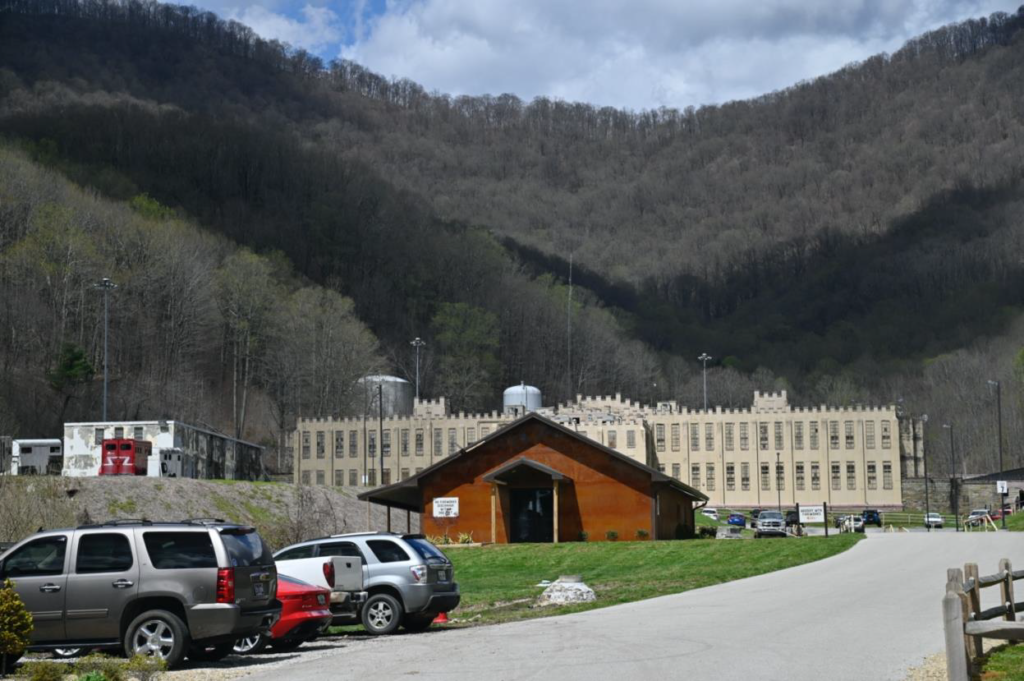 What trip is complete without a visit to a penitentiary? Well, at least a formerly operating penitentiary. Less than one hour's drive from the hotel is Brushy Mountain Penitentiary. No longer a facility where "guests of the state" serve their prison terms, Brushy Mountain now offers the casual visitor a much more pleasant stay. Penitentiary tours, a café, a distillery and concert venue now make up the current Brushy Mountain services.
Take a guided tour led by a former correctional guard. Hear the stories of infamous inmates. Learn of James Earl Ray's escape and subsequent capture from those who were there to live, and write, the history.
Stop for lunch at The Warden's Table and dine upon the tin plates similar to the ones former residents used. After a bite make your way to the gift shop for a souvenir or a wee taste of Brushy Mountain Moonshine. <Don't miss the irony that Brushy Mountain Penitentiary now houses a distillery and, once upon a time, it was the forced residence for many moonshiners.>
So this brief overview should answer the question, "Why Knoxville?"
Even so, we haven't even touched on the great attractions in Gatlinburg or Pigeon Forge. Dinner Theater entertainment, quirky but fascinating museums, and great food all give added color to East Tennessee.
But wait, there's more. How could we end this without mention of the "unofficial" saint of Tennessee – Ms. Dolly Parton. Born in Sevier County Tennessee, Dolly Parton has risen to be an international superstar. With a more than enviable music career, starring roles in major motion pictures, author of best-selling books, Dolly's talents and love for the people and places of East Tennessee know no bounds.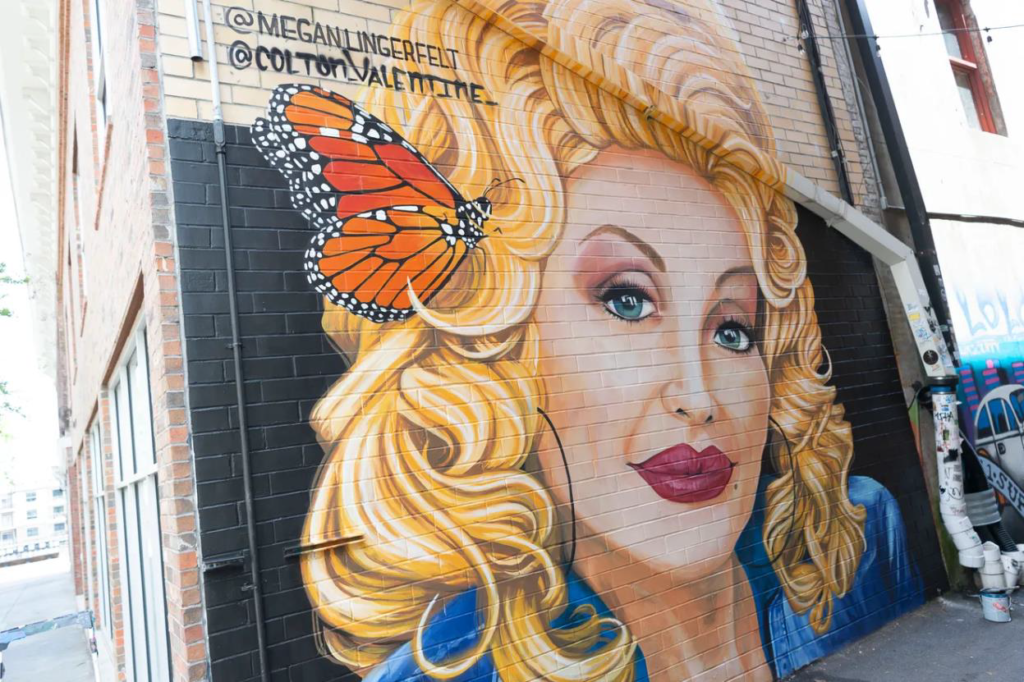 This love includes a strong desire to give back to her home town. This takes the form of employment and education benefits at her aptly named Dollywood Theme Park. All part-time, fulltime and seasonal employees are eligible for 100% tuition.
And if theme parks are your thing, a trip to Dollywood is certainly in order. Located less than one hour from the hotel, Dollywood offers a first-class theme park and (It's August after all!) water park.
We can't wait for y'all to visit us in Knoxville for LOG 42!
Plans for the traditional Concours, first rate key speakers, tech sessions and the awards ceremony are all underway. Adding to the traditions we plan even more activities to make LOG 42 a memorable experience for all.
And it's okay to call Knoxville a "scruffy little city". In fact, we kind of like it.