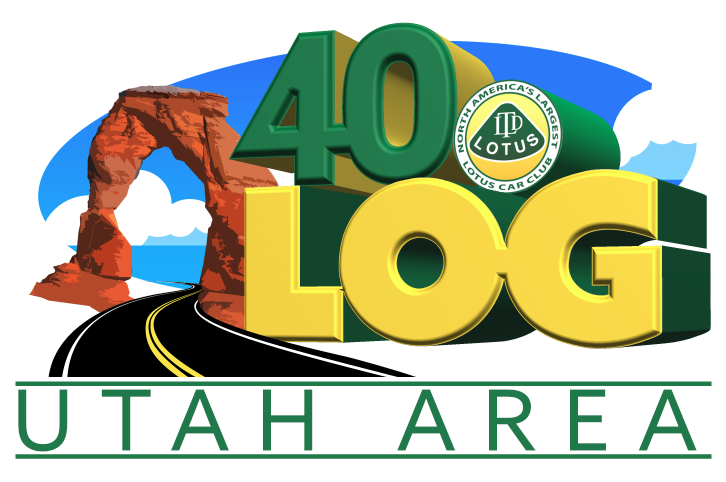 Now is the time to sign up for LOG40! We can't wait to see you in Salt Lake City, Utah!
Log in to your Lotus, Ltd membership before registering for LOG40.
Event News
LOTUS CARS, MATT WINDLE, EVIJA
LOG 40 is privileged to welcome Matt Windle, Managing Director of Lotus Cars in Hethel, England, to Utah and the Unites States. Mr. Windle will attend LOG 40 and serve as the featured speaker at the Saturday banquet. A relatively large contingent of Lotus Cars personnel will attend and bring an Evija which will be on display during the event.
UTAH AREA
Non-Lotus activities are within a very short (walking) distance from the hotel include Red Butte Gardens, the Utah Museum of Natural History, the historic Fort Douglas Cemetery and Hogle Zoo. Red Butte, the museum and cemetery are within walking distance or a short hotel shuttle ride. The zoo is best reached by car or hotel shuttle. Also within shuttle distance are downtown Salt Lake City and the Salt Lake LDS Temple, and the Utah Museum of Fine Arts and all things Salt Lake.
SATURDAY
The Casual Concours will be at Stillwell Field/Cotton High School so do take advantage of the free car wash and take some time to make your Lotus beautiful. The Panoramic photo will be taken in the Concours site, a short drive from the hotel. Box lunches, prepared by a local culinary institute, will be available on your registration form. After the photo you'll have some time to take in more of the sights in and around Salt Lake City.
SATURDAY BANQUET MENU
There will be a cash bar at the Saturday evening banquet at the hotel. The menu choices are:
BEEF - Braised Short Rib, Baby Carrots, Cipollini Onions, Mashers
CHICKEN - Utah Cider Brined Roast Chicken, Pan Jus, Buttermilk Mashers, Roasted Carrots
VEGETARIAN - Grilled Eggplant, Red Pepper, Pomegranate & Walnut Puree, Curried Roasted Red Potatoes
SUNDAY
Sunday is a chance to take on some of the 'drives' we have planned. In the evening is the farewell buffet with interesting presenters and a time to talk with your new Lotus friends. There will be a cash bar and a fabulous buffet which includes a selection of salads, meats, vegetables and desserts.
MONDAY
For those wishing to participate in a track experience, the Utah Lotus Owners Coalition (ULOCO) is holding an event at the Utah Motorsports Campus. The track is 35-miles from the main hotel. Utah Motorsports Campus is owned by Geely, the parent company of Lotus. ULOCO has invited LOG 40 attendees to participate in their event if they choose to do so. The track event this year is not being organized by Lotus, Ltd., and is not part of the main LOG weekend nor does Lotus Ltd have any organizational or financial participation in the event.
For more information on this event please go to: Utah Lotus Owners Coalition Track Day info on Sep 13, 2021 (510388) | MotorsportReg.com.
The day starts early with the mandatory classroom sessions starting at 8:45AM. There will be 3 run groups: Beginners with an instructor in the car for every lap; Intermediate or experienced drivers that don't need an instructor, however, an instructor will be with them for the first session to confirm their skill; the third group will be experienced drivers and race cars.
The current plan is to run the outer loop as indicated in the map below. This is the fastest track configuration and total length is a little over 4 miles. There is plenty of runoff space everywhere, and UMC is considered one of the safest tracks in the USA. Track sessions will be 20-30 minutes long, there will be manned corner stations and emergency crews during all the sessions. The last run group will finish around 5pm. Helmets will be available to rent at the track. PLEASE BE SURE YOUR CAR IS IN RACE-READY CONDITION! SPEEDS AT THE END OF THE FRONT STRAIGHT FOR SOME CARS WILL BE IN EXCESS OF 150MPH. IF YOUR CAR IS NOT TRACK READY, YOU WILL NOT RUN AND YOUR MONEY WILL BE REFUNDED. We will be checking tires , steering and brakes at the track. Please don't show up with 30-year old tires, loose steering or leaky brakes. You can get the heebee jeebees thinking about what would happen to a plastic and aluminum car if a tire blew at 140 mph.
Utah Motorsports Campus
Thirty minutes from the hotel is the Utah Motorsports Campus. Owned by Geely, the parent company of Lotus, the UMC is a wonderful 4.5 mile 23 turn track. Please scroll to the end of the LOG video to see a video of the track.
UMC will be the site of many future Lotus events as it is the Lotus home track in the USA. On Monday September 13, the Utah Lotus Owners Coalition will be hosting a track event. Although this track and autocross event is not a part of the main Lotus Ltd. LOG 40 weekend, this ULOCO Monday event will give our attendees an appreciation of the only track in the USA owned by Lotus. All LOG 40 attendees are invited to register and drive or to spectate. Come enjoy the Lotus cars participating in the day.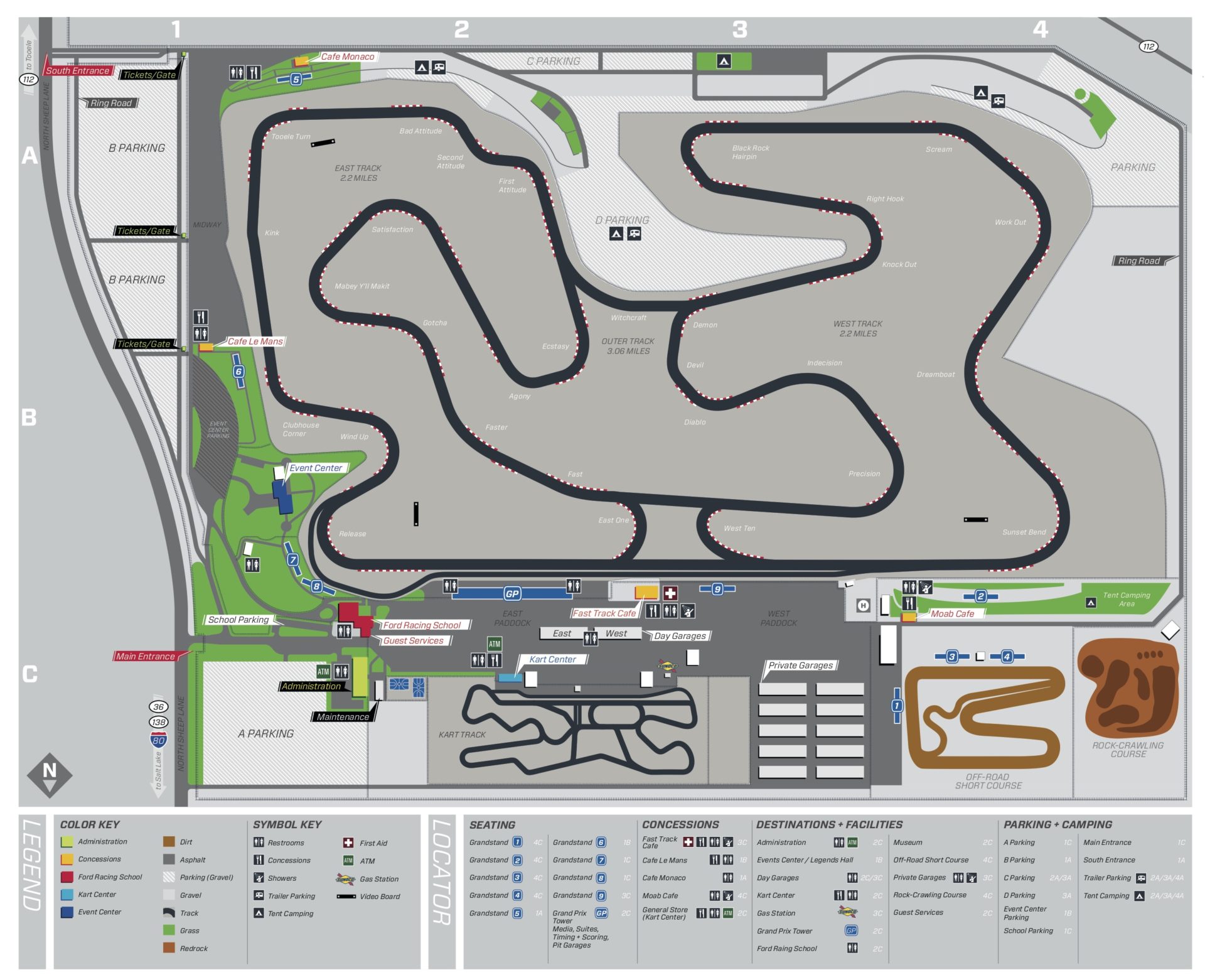 LOG 40 Box Lunch options (Saturday)
MEDITERRANEAN
Turkey Kibbeh on flatbread
Grain Salad
Hummus with cucumber, carrots and house made crackers
Tahini Chocolate Chip Cookie
GREEK
Grilled Chicken on Greek Salad (Vegetarian option-Chickpeas)
Tomato and Feta Orzo
Baklava
AMERICAN
Roast Beef with horseradish aioli on Ciabatta roll
Mixed Green salad with red wine vinaigrette
Seasonal fruit
Mixed Nut and Dried Fruit Snack
ITALIAN
Italian meat and cheese pinwheel sandwich
Caprese
Mixed Greens with Italian Vinaigrette
Baci Ball chocolate
HOTEL RESERVATIONS
LOG40 will be held at Salt Lake City Marriott University Park, 480 Wakara Way Salt Lake City Utah 84108.
The Marriott hotel has a very nice bar in which to relax with other Lotus lovers and has views of the mountains and, if you're lucky, a glimpse of the resident mule deer herd. Their 'Thistle & Thyme" restaurant is next to the bar and there's a convenience store and Starbucks Coffee on site. Here's a link to the hotel website: www.marriott.com/hotels/trave/lslcup-salt ­ lake-city-marriott-universtiy-park. Be sure to ask for the special LOG 40 or Lotus discount.
To make your Reservations please call
the Hotel directly at
+1 801-581-1000
 and ask for the "Lotus Limited Room Block for September 10-12, 2021". Please make your reservations early to get the Room Block rate, otherwise these are some other local accommodations (overflow Hotel information will be posted here at a later date).

LOG 40 AND COVID-19
Lotus, Ltd. is an independent car club not affiliated with Group Lotus or Team Lotus, and Lotus, Ltd.'s 40th Annual Lotus Owners Gathering (LOG 40) is a private event staged for the benefit of its members and guests. Accordingly, Lotus, Ltd. has both the right and the firm intention to establish, publish and enforce such safety rules as it deems necessary to ensure the safety of all LOG staff and participants during the covid-19 pandemic.
In addition to the meet's usual disclaimers and waivers of liability, all LOG attendees will be required at this year's onsite registration to sign an agreement to strictly observe the club's covid-19 safety rules at all times during the course of the event. Any LOGer who refuses to follow the rules, or who otherwise endangers the health and safety of others at any time, will be barred from further participation in the event.
The LOG's covid-19 safety rules will be published on Lotus, Ltd.'s website in advance of the event. They will fully comply with the health and safety guidelines of both the U.S. Centers for Disease Control and the State of Utah that are in effect at the time.
Depending upon covid-19 conditions leading up to the event, Lotus Ltd. may, at its sole discretion require that all participants be required to wear face masks during some indoor activities, particularly in large group gathering situations. Masks will be available at the entrance to the event. It is also the Lotus Ltd. Board's strong recommendation that all participants of LOG 40 are fully vaccinated 2 weeks prior to the start of LOG 40.
Lotus, Ltd. takes its responsibility for the health and safety of all LOG attendees very seriously. In this regard, to the extent necessary, the club intends to err on the side of caution. With everyone's cooperation, we can look forward to a LOG that is a fun and safe experience for all!
The Lotus, Ltd. Board of Directors