Arnie Johnson Tribute No. 14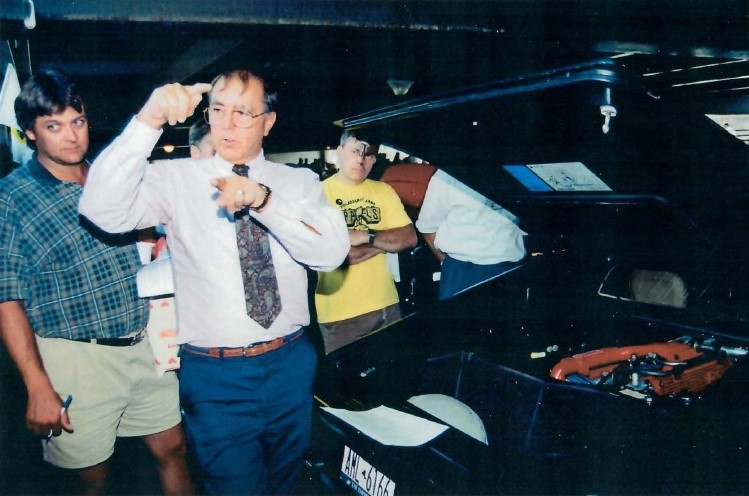 My first memory of Arnie Johnson was in Spring of 1989 when Don Ferrario arranged a small get together for Lotus, Ltd members to see the new Lotus USA facility in Lawrenceville, GA and to watch the Walter Mitty races at nearby Road Atlanta whi ch featured Lotus. Arnie and his team were prepping for the introduction of the chargecooled Esprit SE and between tech sessions and a tour of the new headquarters, Arnie found time to test drive my new-to-me 86 Esprit, of which he was intimately famili ar due to its unique history. He diagnosed and replaced a faulty engine overspeed module right there in the parking lot. This started a long relationship with an extraordinary man. A couple of years later, at the Team Lotus-hosted Lotus Owner's Party at the US Grand Prix in Phoenix, he called out grinning as I approached across the hotel parking lot "How'd you get
here?", knowing that my home in Maryland was a looong way from Arizona. Hilarious!
Over the years, help keeping my Esprit alive was never more than a phone call or a conversation away. After a particularly discouraging period where I went through three pilot bearings in a little over two years working with the service technician at the new local Lotus dealer, it had progressed to a number of phone cal ls and conversations. After the third pilot bearing only lasted two months, I received word that ·'Arnie took care of it." l was told that a newly modified crankshaft was sent up from Georgia and installed in my car. r have not had any clutch or shifting issues with the car since.
I had decided that my Esprit was the limit of my Lotus commitment, both sanity and financially and for many years it was. Some lean years and life changes kept it in the garage while time and life marched on. Eventually a new ace Esprit mechanic was found to help resurrect it in time for Princeton. I think Arnie had as big a smile as I did when Wes Fredericks selected it as his Favorite Lotus! That was about the time that I heard Arnie mention to someone at LOG while talking about the Evora that "there sure isn't anything wrong with the chassis. They sure got that right." That was high praise from the man and certainly got my attention in how l regarded the current model range. After all, handling is what draws us to Lotus in the first place, and that was when I started doing the research and hunting for one in my price range. I managed to find one, or rather
some of my car buddies found one for me and pointed me in its direction. As usual, Arnie was so right. What a dream to drive! It felt just like my 86 Esprit when it was new. The drive to LOG 40 and back was a perfect example.
It must be karma, as Arnie' s gift to Lotus enthusiasts in North America, the Federal Elise, happened to find me last year just as he was leaving us. A near perfect, low mileage example that had been pampered its enti re life found us and joined the family, what a fitting remembrance. I will think of him every time I go for a drive.
-Phil Mitchell, LOG 4 1 Chairman
Brookeville, MD