Arnie Johnson Tribute No. 20
I have a lot of other (stories) but this is the cleanest and fit for publication! What a great guy.
-Ryan Watson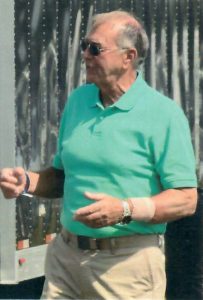 After meeting Arnie in the flesh for the first time at Log, I had already had many business related ca11s with him prior to this meeting, What stuck with me was Arnie's genuine desire to enjoy the Lotus Life!
When I alTived, I had bumped in to Dave Simkin in the hotel lobby and asked, where would I find Arnie?
'Usual Spot. .. at the smokers ' area which was handy as I was a smoker then too…
I walked round the corner and outside, there's Arnie, holding session with ten or twelve people around him listening intently to the story that Arnie was telling.
As soon as I got within five feet the whole group burst in to hysterics, it was one of those laughs that becomes infectious, even though I hadn't heard a whisper of the story, I could feel my face tightening with laughing…
I walked up to Arnie and introduced myself, first thing he said:
"Who did you piss off to deserve this?"
Laughter again erupted.
l sat down and chatted with Arnie for a long time, with various people coming and going for those hours, every time, Arnie would introduce me to every one who would come by, and he would regale a story with each one of them, about one of their own experiences, he was amazing like that, a memory so sharp.
After a few drinks, and the Evening Banquet and what I thought t be an ok performance for my first time on stage in front of the LOG crowd.
Arnie comes up to me:
"Ryan, what's the sign?"
"What Sign?"
"The get me out of here sign"
"Oh I don't know why…. ?"
He said, "look behind me… "
As soon as I did 1 saw around fifteen very eager LOGGERS heading straight for me…
"He said, you have just invited open season, to everyone, who is probably missing a part for something or has it on back order, be ready with your sign and I'll come and get you out"
Ok… so the sign became, me rubbing the back of my neck…
After a few very nice ' welcomes· and ·great speeches'… I had a particularly interesting question about an Elan windshield, which lead in to twelve more minutes of rapid fire questions, I had to get out, for a breath, I looked at the queue it was a like a conga line at a birthday, I looked at Arnie, who was stood next to Dave and Brian, looked him dead in the eye and started rubbing my neck!
Arnie, winks at me, and turns his back, Dave turns his back, Brian turns his back …. Well thank you very much.
I could see the three of them shaking with laughter as they thought, hahahaha welcome to the family!
Eventually after five minutes of vigorous neck rubbing and some tears from the three chaps, sure enough Dave came over and rescued me … as I walked past Arnie, he said "well done, you lasted longer than I would have!"