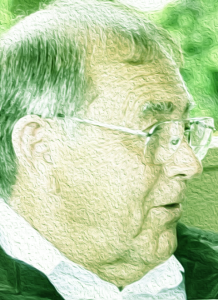 Recognizing the Elise's sales potential, Lotus USA CEO Arnie Johnson hatched a plan, Road & Track explains. He bought a Toyota Celica GT-S on the company's dime and shipped it over to its UK HQ. Why the Celica? Besides being US-legal, its 1.8-liter four-cylinder made more power from the same displacement as the old Rover K-Series engine. Someone at Lotus HQ got the memo. And Lotus has used Toyota engines ever since.
– Matthew Skwarczek, MotorBiscuit

For decades, Arnie WAS Lotus in N America. There's a strong argument that could be made that Lotus would have been gone from the NA (North American) market had it not been for Arnie. There's no doubt that without Arnie and Roger Becker there would be no Elise/Exige in the States.
– Kiyoshi Hamai, www.lotustalk.com
The audio of Jennifer's tribute to her father, Arnie Johnson, during LOG.

More Tributes…
Arnie Johnson Tribute No. 1
Arnie Johnson Tribute No. 2: GETTING TO KNOW ARNIE…
Arnie Johnson Tribute No. 3: Memories of Arnie Johnson
Arnie Johnson Tribute No. 4: ARNIE IS A LEGEND
Arnie Johnson Tribute No. 5
Arnie Johnson Tribute No. 6: Best wishes to Arnie from Morris Dowton
Arnie Johnson Tribute No. 7: The Arnie Johnson I Had the Privilege to Know over the Years
Arnie Johnson Tribute No. 8: Memorable Arnie Stories…
Arnie Johnson Tribute No. 9: BREAD ROLLS
Arnie Johnson Tribute No. 10
Arnie Johnson Tribute No. 11: UNNAMED SOURCES
Arnie Johnson Tribute No. 12: JOHN PLAYER TEAM JOHNSON
Arnie Johnson Tribute No. 13: ARNIE THE PRANKSTER…
Arnie Johnson Tribute No. 14
Arnie Johnson Tribute No. 15: FROM PETE BLACKFORD, Past President of Lotus Ltd.
Arnie Johnson Tribute No. 16: A Gift from Arnie
Arnie Johnson Tribute No. 17: They don't make them like Arnie anymore!
Arnie Johnson Tribute No. 18: FROM JOE MCKEE…Lotus Ltd. and Loony Club Member
Arnie Johnson Tribute No. 19: Message from Alan Nobbs…
Arnie Johnson Tribute No. 20
Arnie Johnson Tribute No. 21: WE WILL MISS YOU
Arnie Johnson Tribute No. 22
Arnie Johnson Tribute No. 23: Recollection from Atwell Haines
Arnie Johnson Tribute No. 24
Arnie Johnson Tribute No. 25: WHO'S A.J.
Arnie Johnson Tribute No. 26
Arnie Johnson Tribute No. 27
Arnie Johnson Tribute No. 28: OBSERVATIONS
Arnie Johnson Tribute No. 29
Arnie Johnson Tribute No. 30: ARNIE TO THE RESCUE.…
Arnie Johnson Tribute No. 31
Arnie Johnson Tribute No. 32: Here's to the Best Leader and Mentor a Young Man Could Ever Want!
Arnie Johnson Tribute No. 33: Recollection from Kevin McGovern
Arnie Johnson Tribute No. 34
Arnie Johnson Tribute No. 35
Arnie Johnson Tribute No. 36
Arnie Johnson Tribute No. 37